/
33 Cozy Fall Decorating Ideas For Your Home
Fall is my favorite season to decorate my home! I love creating a cozy vibe in my home with vibrant autumn colors.
I recently spotted a few fall pieces at Target and thought I would share with you my favorite fall decorating ideas.
This year, create a warm atmosphere in your home with a brown, tan, rust, and burgundy color palette. Decorate your fireplace mantel with a simple fall leaf garland, pumpkins, candlesticks, and a fall wooden sign. Make your couch comfortable with velvet pillows and plaid blankets for a cozy night next to the fire.
Switch out your summer flower arrangement in your kitchen for a burgundy fall leaf arrangement and a fall-tiered tray.
Showcase your love for fall with a festive fall porch. Style your front porch with a harvest welcome sign, pumpkins, and hay bales.
Scroll down below to find more fall decorating ideas to help you decorate your home this fall.
Disclaimer: In the name of full transparency, please be aware that this blog post contains affiliate links and any purchases made through such links will result in a small commission for me (at no extra cost for you). As an Amazon Associate, I earn from qualifying purchases.
Fall Pumpkin Decor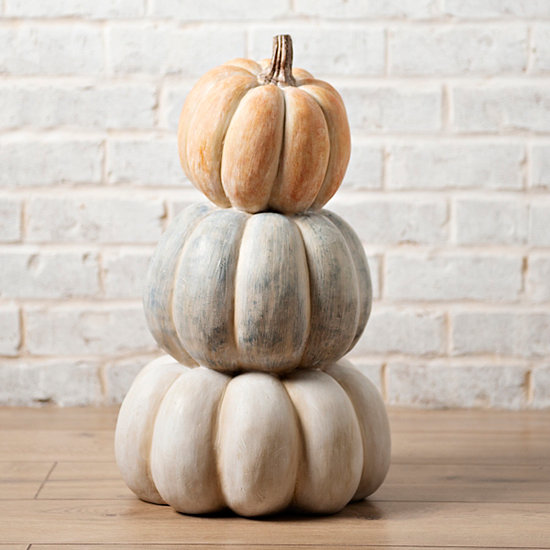 Style this Multicolored Three Stacked Pumpkins Statue in your entryway or on your fireplace mantel.
fall coffee table decor
Decorate your coffee table with a few fall-themed books and this gorgeous modern Ceramic Jug. Fill the vase with dried florals or faux fall leaves.
Autumn Harvest Wall ArT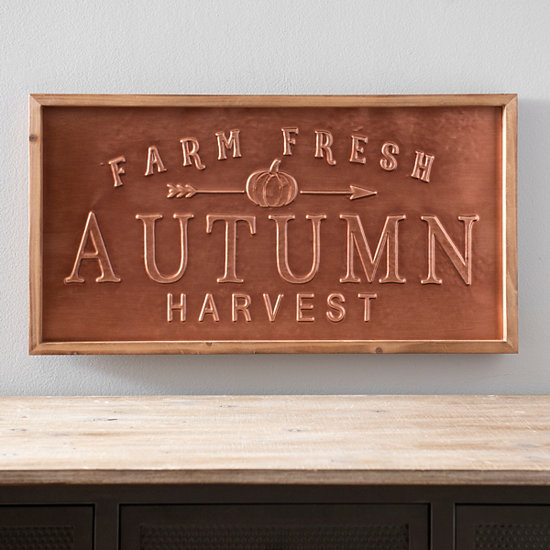 Update your gallery wall with a few pieces of fall wall art like this Autumn Harvest Metal Wall Plaque.
Pumpkin Pillow
You can never have enough pumpkins! Decorate your sofa with these neutral Cozy Pumpkin Pillows.
Plaid throw blanket
No matter the color of your couch this tan Woven Cotton Plaid Throw Blanket will fit perfectly with your current home decor.
Hey There Pumpkin Sign
Add a bit glam to your cozy fall decor with this pink Hey There Pumpkin sign. Style this fall sign on your fireplace mantel or in your home office.
Fall Wreath
If you like a bit of pink in your seasonal decor, then this Fall Wreath is for you. Hang this wreath on your front door or above your fireplace mantel to add a bit of fall glam to your living room.
Oval Table Lamp
Swap out your current side table lamp for this bohemian-inspired Oval Table Lamp with a Pleated Shade . This simple shade is the perfect way to bring a touch of fall to your living room.
Elroy Sherpa Round Ottoman
Rest your legs on this soft Elroy Sherpa Round Ottoman after a long day of work.
Pumpkins
Rattan decor is the latest home decor trend, bring this unique trend into your fall home decor with these Handwoven Rattan Pumpkins.
Magnolia Wreath
Keep your fall decor simple with this magnolia Rusted Eucalyptus Wire Wreath.
fall fireplace decor
Looking for a creative way to decorate your fireplace mantel? Layer these Plaid Wall Art pieces above your fireplace mantel, with small lanterns and gold candlesticks to create a farmhouse look.
Fall Centerpiece
Create a fall tablescape in your dining room with this simple Fall Table Centerpiece.
Morning Pumpkin Pillow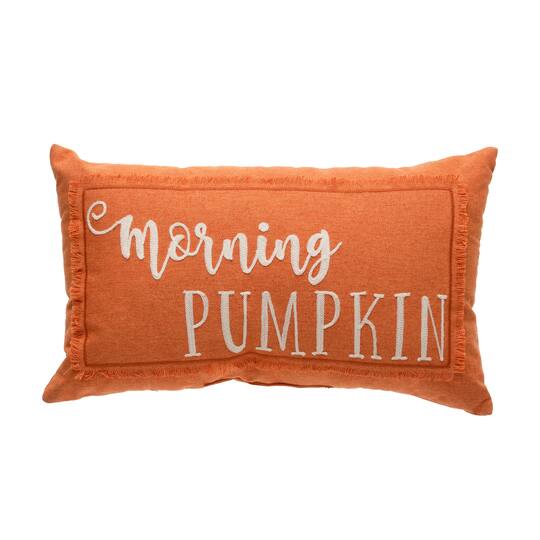 Make your bed cozy this fall with this burnt orange Morning Pumpkin pillow.
Welcome Mat
Create a show-stopping fall porchscape with this Oh My Gourd, You're here, Doormat. Decorate your front porch with pumpkins, mums, and a fall welcome sign.
Pumpkin candles
Bring light into your living room with these festive Textured Glass Amber Pumpkin Cloche.
Gold Tray
Gold is the perfect accent color for the fall season. Style this Gold Round Tray on your coffee table with a small candle and flowers.
Fall Flower Arrangement
Easily transition your kitchen from summer to fall with this Burgundy Preserved Silver Dollar Eucalyptus. Style these fall leaves in a white ceramic vase on your dining room table.
Pillow
Looking for cozy fall decorating ideas? Then this Euro Boucle Decorative Throw Pillow will make Netflix & chill even better.
wooden candle holders
Decorate your entryway table with these simple Wooden Natural Taper Candle Holders.
Fall tiered tray decor
Fall is around the corner which means it's time to host your annual fall craft night party. Invite your friends over to decorate their fall-tiered trays with these adorable fall decor pieces.
Orange Pumpkins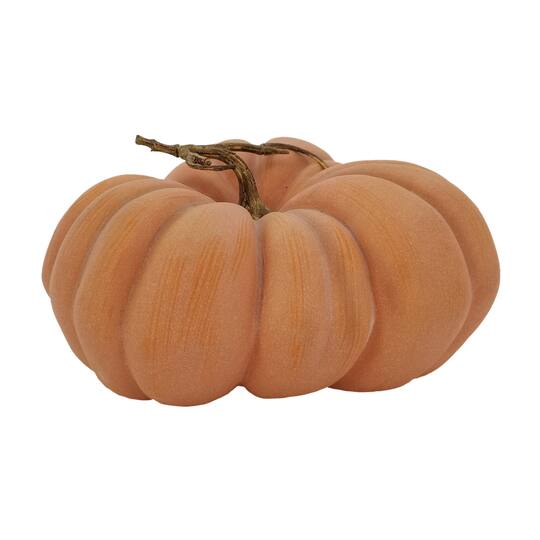 You never go wrong with too many pumpkins. Decorate any room in your home with these trendy Orange Pumpkins.
Accent Chair
Embrace the beautiful colors of fall in a subtle way with this light brown Accent Chair. Style this chair with a fall-themed pillow.
Dried Pampas Wreath
Bring the fall harvest to your doorstep with this Faux Pampas Wreath Style this wreath on your front door with a fall garland and pumpkins.
Fall Lantern Ideas
Lanterns will instantly create a cozy vibe in your living room. Add these simple fall copper lanterns with LED candles.
Fall Front porch Sign
Instantly transform your front porch with this terracotta Hello Fall Sign. Hang this sign on the exterior of your home or next to your front door with pumpkins.
Bedding
Create a fall-themed bedroom with this Heavyweight Linen Blend Duvet & Pillow Sham Set. Pair this cozy set with fall pillows and a chunky knit blanket.
Fall Mantel Decor
Keep your fall mantel decor simple with this The Grand Dough Bowl Candle. This candle comes in a variety of scents perfect for the holiday season.
Wooden Bowl
Fill this rustic Rattan Decor Tray with with scented pinecones or pumpkins.
Fake Fall Magnolia Leaf
Decorate your dresser in your bedroom with this Fake Fall Magnolia Leaf. Style these simple fall leaves in a white ceramic vase with a pumpkin spice candle.
Pumpkin Patch Sign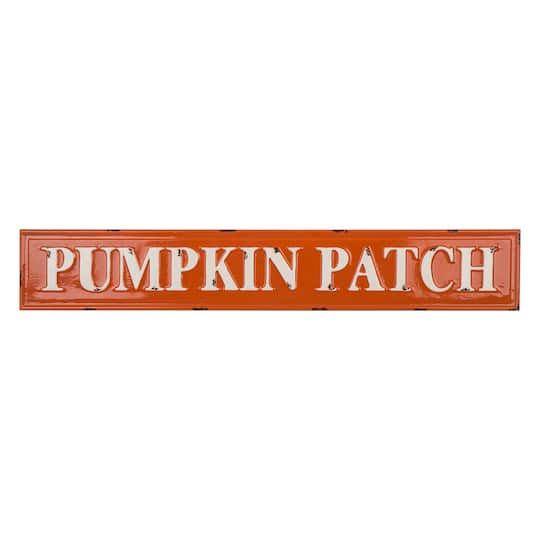 Hang this rustic metal Pumpkin Patch above your front door to create a festive fall front porch display.
Fall Doormat
Welcome guests to your home this fall season with this adorable Hey There Pumpkin doormat.
fall Porch Decor
Display all your pumpkins in the rustic Pumpkin Patch Wheelbarrow. Add this pumpkin patch wheelbarrow to your fall porch display with mums and lanterns.
popular fall blog posts