/
26 Easter Party Ideas That Will Make Both Kids and Adults Eggcited
Have your kids been asking you to throw an Easter party? I am sure your first thought was," How do you host an Easter party in the middle of a pandemic?" No worries, my selection of  Easter party ideas will put a smile on your kids' faces and ease your stress.  
Host a small gathering at your home with your closest friends and family. Decorate your home with Easter party decorations from pastel rainbow balloons, Easter egg table decor, and mini bunny pinatas. Set up a craft table in your kitchen and decorate Easter eggs, and paint gnomes. Take the kids outside to play fun Easter games such as the egg and spoon race game, bunny hop sack race, and pin the tail on the bunny. 
Now that you have planned an Easter party for your kids, you are probably thinking," What can adults do on Easter?  Keep the adults entertained with lawn games, an egg decorating contest, carrot cake bake-off, and an adult Easter Egg hunt. Let the adults join in on the Easter egg fun with a recipe Easter Egg hunt. Ask each adult to write down their favorite recipe and put it in an Easter egg. Your guests will love running around finding delicious new recipe ideas. 
Find inspiration for your Easter party with my roundup of inexpensive Easter party ideas.
Disclaimer: In the name of full transparency, please be aware that this blog post contains affiliate links and any purchases made through such links will result in a small commission for me (at no extra cost for you). As an Amazon Associate, I earn from qualifying purchases.
Easter Party Decorations
DIY Streamer Fringe Backdrop KiT
1.Save time cutting up tablecloth strands and order this Unicorn Rainbow DIY Streamer Fringe Backdrop Kit. Attach the strands to a fencing base to create a DIY photo backdrop for your holiday party.
Bunny Plates

2.Serve your little guests bunny sandwiches and carrot-shaped fruit on these pastel Bunny Plates.
Easter Bunny Mini Piñata
3.Swap out your Easter – themed place cards for these personalized Easter Bunny Mini Piñata. Fill the pinata with confetti, small toys, and candy.
CaRROT bALLOONS
4. No need to hire a balloon artist, instead make your own Easter balloon decorations for your guests with this Carrot Balloon Kit.
Easter Cake Topper
5.You will not want to cut into your Easter cake with this Bunny Ears Cake Topper on top.
Bunny Headband with Felt Flowers
6.Design a kid's costume area filled with this Spring Bunny Ears & Headband with Felt Flowers, costume makeup, and more Easter costumes.
Bunny Stop Here Tabletop Stand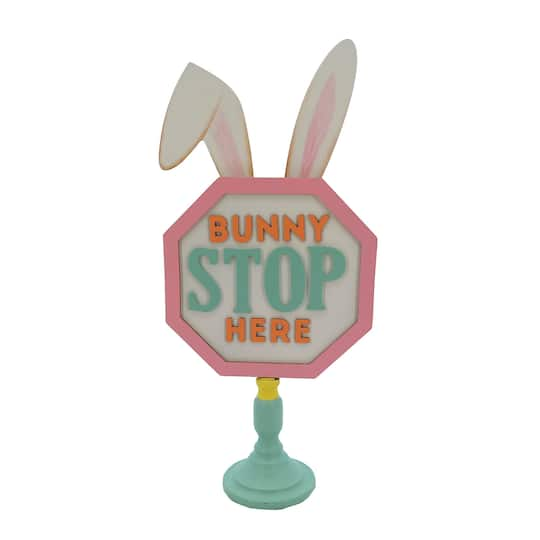 7.Invite your guests to grab a tasty treat in between Easter activities with this Stop Here Easter Sign.
DIY Easter Balloon Garland
8. Follow my step-by-step DIY Balloon Arch tutorial using this DIY Easter Balloon Garland Kit. Save time blowing up balloons with an Electric Balloon Pump.
Easter Bunny Carrot Treat Stand
9. Create a snack bar at your party with this Easter Bunny Carrot Treat Stand. Pack the carrot cones with popcorn, dried fruits, and chips.
Easter Bunny Cake Toppers
10. Take your homemade cupcakes to celebrity bakery statues with these Edible Bunny Tail and Feet Cupcake Toppers.
Hip Hop Hippity Hop Easter Felt Garland
11.Hang this Hip Hop Hippity Hop Easter Felt Garland from your fireplace mantel.
Easter Bunny Costume
12. I bet your guests will not be able to tell who is underneath this Adult's Deluxe Easter Bunny Costume.
Honeycomb Bunnies
13.Create a boho-inspired tablescape for your kids in your living room. Style the table with these bright-colored Honeycomb Bunnies and Honeycomb Paper Eggs.
Bunny Rabbit Party Balloons
14. If there is one toy kids love to play with at parties, it balloons. Give each kid their own Bunny Rabbit Party Balloons.
Easter Basket
15. Create Easter gift baskets for your guests with these Woven Straw Easter Basket. Fill each basket with a Personalized Tic Tac Toe Easter Game, Personalized Puzzle, and Alice Knitted Easter Dolls. Personalize each basket with this Easter Carrot Name Tag.
Bunny Wreath wooden decoration
17. Transition your home from winter to spring for your Easter party with this Bunny Wreath. Decorate this wire wreath with spring flowers.
Easter Party Activities
Easter Egg Decoration
18. If your kids are around essential workers, throw a virtual Easter party on zoom. During the zoom party, decorate Easter eggs using this Easter Egg Decoration Kit.
Peter Rabbit™ & Friends Egg Hunt Kit
19. Organize your annual Easter Egg Hunt in your backyard with this Peter Rabbit™ & Friends Egg Hunt Kit.
DIY Easter Bunny Banner
20. Say thank you to an essential worker, teacher, or mailman in your neighborhood with this DIY Easter Bunny Banner. Let the kids color this DIY Easter Bunny Banner and attach a card expressing your gratitude.

Bunny Potato Sack Race Bags
21. Hold a Bunny Potato Sack Race in your backyard or basement using these Easter Bunny Potato Sack Race Bags.
DIY Easter Gnome Paint Kit
22. Host an Easter kids paint party at your home using this DIY Gnome Kit.
Pin The Tail On The Bunny
23. Kids 3 and up will be able to enjoy this game of Pin The Tail On The Bunny. Print this Pin The Tail On The Bunny on large paper and hang it on your wall.
Easter Party Ideas For Adults
DIy Easter Tiered Tray Kit
24. Throw an Easter tier tray party featuring these DIY Easter Tiered Tray Sign Kits. Head to your local Dollar Tree, HomeGoods, and Target to find small trays to decorate.
DIY Easter Cookies kit
25. Host an Easter cookie bakeoff and let the guests be the judges. Use this Easter Cookies DIY Kit to decorate the cookies.
BurlaP Table runner
26. Design an adults-only table using this Burlap Table Runner. Decorate the center of the table with this gorgeous green and white flower arrangement in a wooden box. Wrap your white linen table napkins in these Egg and Nest Decor Napkin Rings.
Pin on pinterest!