/
30 Mother's Day Gift Ideas for Every Woman In Your Life
Celebrate the women in your life with a personalized Mother's Day gift. I have rounded up the best mother's day gift ideas that are guaranteed to make any women smile. Showcase your love for mom, grandma, aunt, or sister with these unique Mother's day gift ideas. Comfort your mother this Mother's day at home with a thoughtful gift that will help her get through these difficult times. Choose a creative gift that will bring happiness, laughter, and joy into your mother's life this holiday. Treat her to a day of relaxation with a tea-themed gift basket or a self-care basket. Say thank you to your mom with a personalized gift that will touch her heart such as a customized love letter blanket, recipe book or a special framed photo. Save money and time looking for a gift and flip through my selection of awesome Mother's Day gift ideas.
Disclaimer: In the name of full transparency, please be aware that this blog post contains affiliate links and any purchases made through such links will result in a small commission for me (at no extra cost for you).
Made With Love Art Print
1.Bring any mother to tears with this Made With Love art print. Customize this art print with a handmade frame that comes in a variety of colors. This gift is perfect for new mothers or moms-to-be.
mama hat
2.This Mama hat is the perfect on-the-go accessory for every mother. Put this stylish hat in a mother's day gift basket or pair it with an adorable mama t-shirt
Throw Pillow
3. Say I love you to your mom with this farmhouse Throw Pillow- " If I Didn't Have You As A Mother I'd Choose You As A Friend."
Non-Stick Cookware Set
4.If your mom loves to cook she will love this 5 star Caraway Home 7pc Non-Stick Cookware Set.
Crossbody Bag
5.Add a pop of color to your mom's wadrobe with this blue Madewell Crossbody Bag.
Personalised 'Thank You' Square Vase
6. The way to a woman's heart is flowers. Every mom, grandmother, or mother figure deserves flowers on Mother's Day. Deliver fresh flowers right to her doorstep in this Personalised Thank You' Square Vase. Make her feel extra special with a fresh bouquet of her favorite flowers.
mama Jean Jacket
7. Your mom will feel stylish and fabulous in this MAMA jacket with a floral silhouette.
love letter blanket
8.Snuggle up with your grandmother on Mother's Day underneath this Love Letter Blanket. Write a personalized love letter to your grandmother or friend and have it printed on this blanket.
Cast of babies' hands and feet
9. Surprise the new mom in your life with a gold cast of their baby's foot or hand with this Baby Hand and Feet Casting Wood Sign.
marc jacobs tote
10.Upgrade her everyday "mom bag" with this Canvas Tote. Gift your mom fashion and function all in one. This bag can fit everything from her electronics to her kid's snacks and even her makeup bag.
Waterfall Wine Glasses
11.Update your mom's weekly wine and cheese night with these gorgeous Waterfall Wine Glasses.
House Plant Box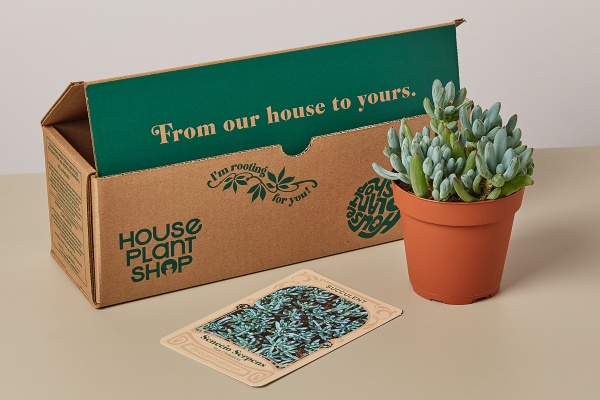 12. Looking for affordable Mother's Day gift ideas? Gift the plant mom in your life this House Plant Box. For only $15 send the special women in your life an indoor plant every month.
Personalized Pie DIsh
13.Say thank you to your mom for all her delicious pies with a new Pie Dish . Make this gift extra special and personalize it with your own Mother's Day message engraved on the dish.
Linen jacket
14.Gift your mom something she will use every day, like this pink lightweight Linen Jacket.
tea Gift Basket
15.Help your mom unwind after a long day with this Mother's Day Tea Gift Basket. This delicious basket is filled with tea, honey, sugar, and a best mom ever cup. Personalize this gift basket with your mom, sister or grandma's name on the lid of the gift basket.
self-care gift box
16. Relax your mom's mind with this TheraBox Self Care Gift box. This gift box focuses on reducing stress and anxiety with an assortment of self-care products. Restore your mom's mind with body products, activity books, journals, and relaxing teas.
Mom Knows Best Engraved Bamboo Cutting Board
17.Give the hostess with the mostess this Mom Knows Best Engraved Bamboo Cutting Board for her next dinner party.
Pressed Flower Frame
18. Make Mother's Day 2021 memorable with this Pressed Flower Frame. Take photos of your mom throughout the day using this Fujifilm Instax Mini 11 Instant Camera. At the end of the day place your favorite photo in this frame and give it to your mom.
DO Not Disturb candle
19. Let your mom know you hear her when she says, " I need quiet time" with this Do Not Disturb Candle.
mama joggers
20.Give your mother the gift of style with this matching Mama Joggers set.
personalized recipe book
21. Start a family tradition this Mother's Day with this Personalized Recipe Book. Ask your mother or grandmother to record their family recipes. Then pass this recipe book down from generation to generation.
New Mom and Baby Gift Box
22.Every new mom needs time to reconnect with their body again after giving birth. Help the new mom in your life with this New Mom and Baby Gift Box. This gift box features natural beauty products to help women's bodies heal after pregnancy. Plus, the box even features a few natural products for babies.
Mama Iced Coffee Cup Glass
23.Your mom will love drinking her morning cup of coffee out of this adorable Mama Iced Coffee Cup Glass.
Personalized Photo Keyring
24. Your mom will never lose her keys again with this adorable Personalized Metal Photo Keyring.
Sommelier Wine Board Series Personalized
25. Host a Mother's Day wine and cheese party at home with your mom's favorite bottle of wine and this Sommelier Wine Board Series.
Mom, I Wrote a Book About You
26.Thank your mom for being your first best friend with this Mom, I Wrote a Book About You.
Mini Daisy Perfume Set
27.Add to your Mother's perfume collection with this best seller Marc Jacobs Daisy Love perfume.
Mother's Day Art Print
28. Melt your mom's heart with this beautiful Personalized Mother's Day Art Print.
mug
29. Remind your mom how much you love her with this I love you mug . At the end of every cup of coffee, your mom will be reminded of your everlasting love.
Silk Painting Kit
30. Your grandma is going to love painting this Silk Painting Scarf Kit.
popular blog posts
pin on Pinterest
Shop the Look